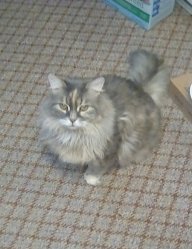 Joined:

Sep 6, 2015
Messages:

8,362
Gender:

Female

Birthday:

October 16

Location:
Woodsywife
Well-Known Member, Female, from PA
There are no messages on Woodsywife's profile yet.

Loading...

Loading...

About

Gender:

Female

Birthday:

October 16

Location:

Member since:

09/06/2015

Smokey (18 yrs old)

Dx with diabetes in 2010. Pancreatitis, pending CHF, heart attack in 2016. Asthma (possible it might have been CHF).

Smokey has been with various members of my family his entire life. The longest with my parents for 14 yrs. Records indicate a few UTIs over the years but nothing else. They all complained of improper LB behaviour and that is why aunts relinquished him. My mother and I made the 6 hr trip in a blizzard to get him from my aunt. It took us 8 hrs to get home. He never made a sound and in a carrier much to small for him.

During g the years with my parents he enjoyed RV traveling. LB issues and vomiting continued but I don't think anything was done about it. Over the years it became worse and they started keeping him in a entry room because of it.

Mother having dementia in 2013. Father oblivious to it. Mother became very ill and hospitalized in 2014. I had forgotten he was diabetic. When I arrived the condition of the room he was in was deplorable. He was always a gentle giant and then he barely weighed 12 lbs, was horribly matted. My father was only feeding him his bedtime meal of 1/3 cup dry food. Legs extremely weak and he staggered. No idea of when he had insulin last. So he came home with me.

I had no problems with giving insulin but that's all I knew. Did what my vet instructed. With feedings every 1-2 hrs I got the vomiting somewhat under control with the help of raglan. Retrained him for the LB. His insulin dose kept going up, when he hit 5u (Vetsulin) vet said had to find other options they couldn't give more. So dry food was cut out. Was not home testing but had the AT. Was told test if he's acting funny. About 3 weeks later intuition told me something was wrong with him. Started googling feline diabetes and found FDMB and lurked for a few days. I finally joined and that night Smokey was not responding to the sounds of feeding time. Tested him and he was 32. And here we are.

Civvie Tripper, 13 yrs old. As a kitten in 2003 she followed DH and I home from a walk and literally walked in our door. She was contagious with Bartonella and was confined to our basement during treatment. 3 weeks after walking in door she gave birth to one very large all black kitten, adopted by DH co-worker.

Civvie Tux, 3 yrs old. Was dumped near our house and found his way to my deck. He was about 6 weeks old at the time. Smokey and Tux adore each other and are best buds.

Interact

Signature

Smokey (GA 10/9/16) was 18 1/2 yrs old. Dx October 2010. 3/15/16 Pancreatitis. 10/3/15 started Lantus. 5/13/16 left CHF. Confirmed cardiomyopathy. MI. Thoracic spondylosis. 1/23/16 switched RELION MICRO.

MEDS: Zobaline 10/15/15. Cerenia 4 mgs daily; Buprenorphine 0.05ml daily. Lasix BID. Albuterol as needed. Pimobendan. Benazepril. Spironolactone. ASA twice a week.

Smokey's Numbers

Loading...