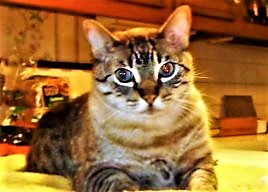 Joined:

Jan 1, 2016
Messages:

877
Gender:

Female

Birthday:

February 22

Home Page:

Location:

Occupation:

Legal Nurse Expert,R.N., MSN, LNC
There are no messages on ELLIOTT & Fran Munschauer's profile yet.

Loading...

Loading...

About

Gender:

Female

Birthday:

February 22

Home Page:

Location:

Occupation:

Legal Nurse Expert,R.N., MSN, LNC

Member since:

01-02-2016

I never had cats. I have 8 little (in house) dogs. Worried in 2000, that this stray black cat that hung around might get hurt on Halloween, we made a place in our garage for him. Then, we placed a heater next to his box because it was cold. When returning from assignment in CA, I found him in the house and so it began, but I did not understand "cats" at all. "Meow" did not seem to care about me. I kissed him on the nose twice. On the second kiss, he tore me to pieces..I did not realize that I might have scared him. On his first DVM appt, we learned he had FIV, but also learned, it may never affect him. We just followed directions to not let him out due to FIV transfer. It was good that we did that since prior to confining him to the house, he would return with many unusual injuries that cost him many hospital visits. he never really liked us but would sit on our laps once in awhile if HE chose to do so. And that was okay..I guess. 11 years later, he had lost all hair on his ears? but later he stopped eating and hid in a closet constantly. We lost him and decided to find another "black" cat since we had heard that many people do not like black cats. We adopted a wonderful friendly black cat from a shelter who died 5 weeks later from FIP. That started my cause "against" the shelter's practices. Prior to adoption, we could not take Meow 2 home until he was neutered and vaccinated and so we visited daily. We often asked about departures of familiar kittens and cats, Meow 2 and others had a runny but HE was put on Clavamox and isolated from the rest. Not having experiences of adopting from shelters, I never thought about "when" the animals were vaccinated after arriving at the shelter.. And so, by donations and letters to HSUS, I have tried to address the "vaccination' issue since. NOW, we did not plan on having anymore cats until i received a call from a rescuer who claimed she saw my ?? YouToo?? page. She claimed to have a kitten that no one wanted. I felt awful...For some reason, she brought her 2 favorite kittens, stating that the unwanted kitten was wanted afterall. So, here we are with Elliott and Trouble, who could care less whether I lived or died. At 8+ wks of age, we had to turn over every piece of furniture in the house to prevent them from hiding. To date, Trouble will come to my bed to be combed every night..but I am not allowed to approach him.. He can only approach me. Elliott has to be tackled to comb him which is infrequent and has no use for me at all..However, recently, after his diagnosis, he "looks" at me and seems to be a little friendly. allowing or short chase to get him, unlike the usual crawling under couches and pianos to "try" to get him..That's okay for I LOVE THEM BOTH!!!! (will correct/edit errors later)

Interact

Loading...